In June 2018, we are hosting an two-day, invite-only workshop supported by our NSF-funded project on "Mapping Privacy and Surveillance Dynamics in Emerging Mobile Ecosystems: Practices and Contexts." This event will be an intimate gathering of stakeholders in academia, industry, and policy from the U.S., Canada, and Europe to help discuss emerging issues in privacy within mobile ecosystems, further build the trans-Atlantic network of privacy researchers, explore unique methodological approaches in privacy research, and generate feedback on our next steps for the project.
The event will be hosted on the University of Maryland, College Park campus and will include a full day of activities on Monday, June 25 and a half day on Tuesday, June 26. Due to the small size of the workshop, we have not reserved a block of rooms at one of the local hotels; instead, we provide information on local options below and ask you to make your own travel reservations. Participants will receive an honorarium to help cover travel and lodging costs, with the amount based on need and where they are traveling from.
For more information about the research conducted to date, read our scoping paper here.
Workshop Location
The workshop will be held at the University of Maryland in College Park, MD. Below is a map of part of the campus with four areas of interest marked off. For a more detailed, interactive map, click here.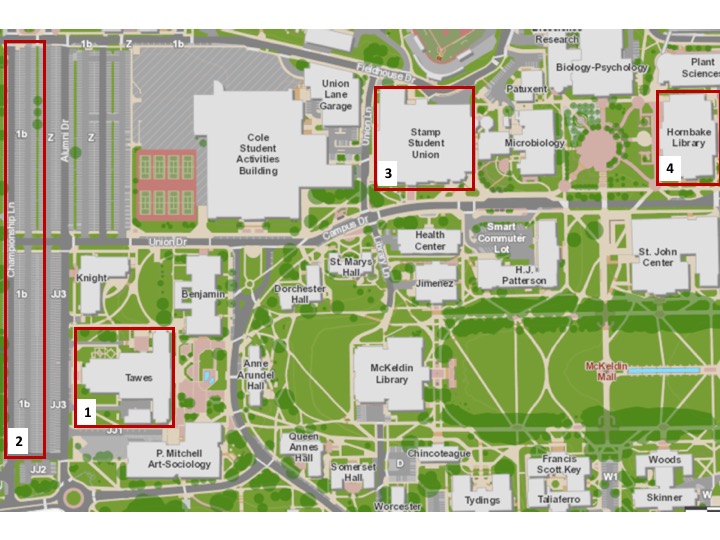 Tawes Building (7751 Alumni Dr., College Park, MD 20742): The workshop will take place in Tawes 1310 (first floor) in one of UMD's new TERP classrooms, which are designed for interactive design with white boards along all the walls and multiple displays–perfect for a workshop. If you're interested in learning more about our TERP classrooms, click here.
Parking: If you drive to campus, Lot 1 marked on the map is the best place to park, both because it's close and because it is free to park there. Then it's just a short walk to Tawes. If you are staying at one of the local hotels, you may be able to catch a shuttle, use public transportation, or take an Uber or Lyft.
The Stamp Student Union is the best place to go for a snack, coffee, meal, campus gear, or a charger if you forgot one when packing. The summer hours are limited but it is usually open for most of the day. You can also take your picture with a statue of Jim Henson and Kermit the Frog on a bench in front of Stamp (Henson is a UMD alum). Click here for general information about Stamp, including hours, which are posted on the homepage.
Local Hotels
There are a number of hotels in the greater College Park area for you to choose from for your stay during the workshop. The DC Metro (WMATA) also has a stop in College Park (Green/Yellow Line), with a regular shuttle bus that travels between the Metro Station and the Stamp Student Union. If you are looking for an Airbnb, you should search for "College Park, MD," "Hyattsville, MD" (which is the city just south of College Park and just north of Washington, DC, or use the zipcode 20742 or 20740. Below, we list some of the options for local hotels; however, we leave it up to you to decide where you would prefer to stay, as individual tastes vary.
College Park Marriott Hotel & Conference Center:
3501 University Blvd East, Hyattsville, Maryland 20783 USA | Phone: +1 301-985-7300 | Website
This is the closest option to the workshop, being just a 10-minute walk (.5 mi/.8km) door to door. This hotel is frequently used for local events and will be used as the main site for next year's iConference, which the iSchool at UMD is hosting.
The Hotel at the University of Maryland:
7777 Baltimore Avenue, College Park, MD 20740 | +1-301-277-7777 | Website
The Hotel at UMD is the newest–and nicest–hotel in the area, having just opened in September 2017 as the only four-star luxury hotel in the region. It is also walkable to the workshop but a bit farther away (.8mi/1.3km) and is largely uphill walking from the hotel to Tawes.
Holiday Inn Express & Suites College Park-University Area:
9020 Baltimore Ave, College Park, MD 20740 | +1-301-441-8110 | Website
Close to campus, this hotel is an affordable option. It's not easily walkable, but you can get from the hotel to the workshop building in 22 minutes by taking the C2 bus (according to Google Maps).
Getting to College Park
The University of Maryland, College Park is located in Prince George's County, MD, which borders Washington, DC. It is also about 30 minutes south of Baltimore, MD. Because of its location, there are three airports located within an hour of the campus. Baltimore-Washington International (BWI) is located south of Baltimore and has shuttles to Greenbelt, which is one Metro stop from College Park. Reagan National Airport (DCA) is located inside Washington DC and has its own Metro stop. Dulles International (IAD) is the region's largest airport and is located in Northern Virginia; unfortunately, it is the farthest away, although there is public transportation via shuttle bus from the airport to Metro's Silver Line.
Preliminary Schedule
A schedule of events can be found here.
We expect to have a full day of activities on Monday, June 25 (9am-5pm) and a half-day of activities on Tuesday, June 26 (9am-1pm). We are also planning a group dinner on Monday night.